Documents / Passes
(SS)Polizei Service Pass (Dienstpaß). The pass belonged to 'Karl Ziegler'. Karl entered the Police within the 'Schützpolizei des Reiches' on 6 May 1940 in the rank of 'Polizei Anwärter'. Various entries have been made in his service pass, see photos for more details. Nice original pass!
Wehrmacht (Heer/Luftwaffe) Soldbuch of Leutnant 'Walter Brokmeier', member within the 'Jäger-Ersatz-Bataillon 75'. Completely filled in with a lot of entries. Woundbadge in Black, Ostmedal, Iron Cross 2nd Class and Woundbadge in Silver. Interesting Soldbuch in good used condition!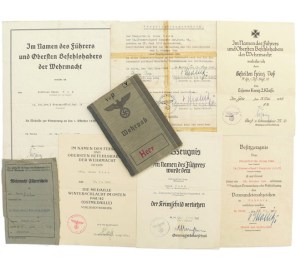 WH (Heer) Wehrpaß & Award Documents of Leutnant 'Heinz Voß'. Including documents for the 1 October 1938 Medal, Iron Cross 2nd Class, Wound Badge in Black, Ostmedal and the 'Krimschild'. Interesting original grouping which certainly merits further investigation!
'Nationalsozialistisches Fliegerkorps' (NSFK) - 'Deutscher Segelflieger-Ausweis' "C" (ID-Card). This NSFK ID-card was issued to 'Fritz Siebert' on 16 August 1938. Hard to find original example in good condition!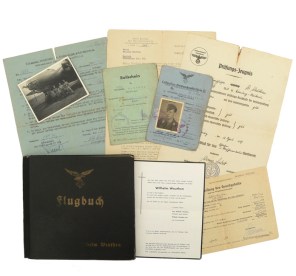 Luftwaffe Flight Log Book & documents of 'Wilhelm Weuthen' (Flugbuch). He has flown in a W34, FW58, He111, Ar66 He70, Ju52, Do17 and the Do217. There are 796 flight entries. The grouping comes with his 'Bordmechanikerschein' and 'Rollschein'. Interesting grouping!
NOÚZ - 'Nationale Gewerkschaftszentrale der Arbeitnehmer' Members Book. Nice booklet, issued in 1944 with stamps pasted from 1944/1945. Regrettably missing the portrait-photo. Nice example in good used condition!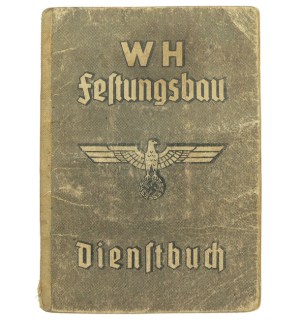 This is a rare original 'WH Festungsbau Dienstbuch' (Wehrmacht Fortress Builders Service Book). Issued on 23 May 1942 to a member within the 'Festungs-Pionierstab 17', complete with portrait-photo. Nice example in good used condition!