Equipment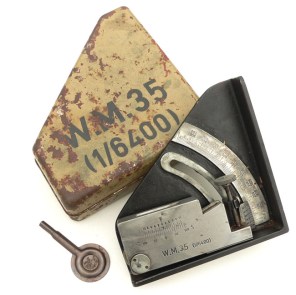 Wehrmacht Gunners Quadrant for use with the 10,5cm Field Howitzer 18 (Winkelmesser 35). The set is nicely maker marked with 'bvu'. Complete with the often missing key. Nice original set!
Kriegsmarine aluminum Food Container (Behälter). The container is nicely Kriegsmarine marked. The container is 18cms high and it is having a diameter of 20cms. Example in good used condition!
Wehrmacht hand-held cable reel (Abspuler), larger type. The cable reel is nicely maker marked and dated 1942. It still retains most of its original field-grey paint. Nice example in good used condition!