Headgear Insignia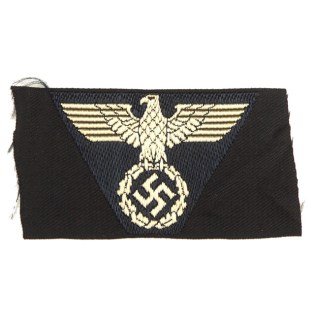 Deutsche Reichsbahn' (German National Railway) BeVo-woven cap-eagle (Mützenadler). Nice example in mint and unissued condition!
Wehrmacht (Heer) Visor Cap Eagle as intended for wear on the Visor Cap (Schirmmützenadler). Early aluminum example, regrettably missing two prongs. Maker marked and dated with 'FLL38' indicating production in 1938. Nice example in used condition!
Kriegsmarine cap-tally '3. Schiffstammabteilung' for wear on the donald-duck cap (Tellermütze). The Tally measures approximately 139 cms in length. Nice example in very good condition
This is the lat- war type WH (Heer) M43 cap-eagle/cocarde (trapezoid). Nicely machine-embroidered on a field-grey cotton background. Nice original example in good used and clearly cap-removed condition!