Awards & Medals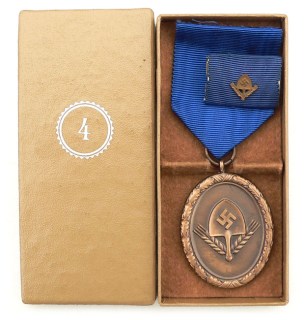 Cased 'Reichsarbeitsdienst' (RAD) men's four year long service medal (Dienstauszeichnung 4. Stufe). Nice aluminum light-weight example complete with it's original confectioned ribbon and light-brown carton box. The set comes together with its accompanying 'Bandspange'. Nice set in top condition!
General Assault Badge (Allgemeines Sturmabzeichen). The hollow 'Buntmetall' (tombac) type badge is not visible maker marked, it can be attributed to the company of 'O. Schickle'. Nice original early-war type badge in good used condition!
Kriegsmarine 'Kriegsabzeichen für Minensuch-, U-Boot-Jagd und Sicherungsverbände' (minesweeper war badge). Early 'Buntmetall' example which can be attributed to the company of 'Otto Schickle' from Pforzheim. The badge is heavily vaulted (gewölbt). Great original badge!
'Der Stahlhelmbund' New Members Badge - 1926 (Eintrittsabzeichen). The badge is engraved with an unique number 'VI Nrh 2157' and date '3.11.26'. It comes on its original and functional pin/catch construction. Nice example in good condition!
Black wound badge (Verwundeten Abzeichen in Schwarz). The badge is a magnetic steel example. The badge is maker marked with number 'L/55' - 'Wächtler & Lange' in Mittweida. Hard to find original example in very good condition, missing in most Wound Badge collections!
German Horseman's Badge in Bronze (Reiterabzeichen). The badge is nicely maker marked by the company of 'Steinhauer & Lück' from Lüdenscheid. Nice 'Zink' example in good used condition!
Nice Kriegsmarine 'Zerstörer-Kriegsabzeichen' (Destroyer War Badge). The 'Buntmetall' badge is unmarked but can be attributed to the company of the 'Gebrüder Wegerhoff' in Lüdenscheid (GWL). A nice and honest KM war-badge!