Miscellaneous items like flags, porcelain, art, daggers, swords and other unique pieces.
Miscellaneous
DAF 'Deutsche Arbeitsfront' Wall Plaque. The plaque shows a cog wheel with a swastika in the center, the symbol of the German Labor Front, sized approximately 20 cms in diameter. Nice original item!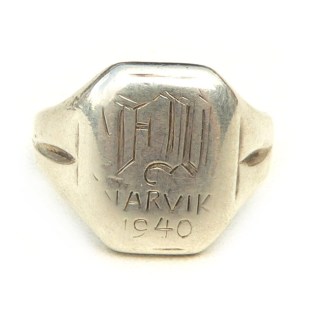 This is a nice 'Narvik 1940' remembrance/souvenir ring showing the soldier's initials 'F.w.'. The ring has been manufactured by the juweler 'Brødrene Lohne' from Bergen (Norway). Nice original ring in good used condition!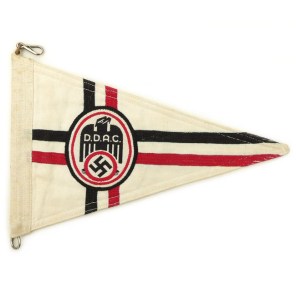 'Der Deutsche Automobilclub e.V.' (DDAC) Vehicle Pennant (Wimpel). The double-sided pennant is sized approximately 25 x 17 cms. The pennant is in very good, only slightly used condition, see photos. Decorative original item!
Very rare Clothing Hanger from the company 'Herrenbekleidungshaus R. Schnell' in Plauen, located at the 'Adolf Hitlerstrasse'. Rare original item!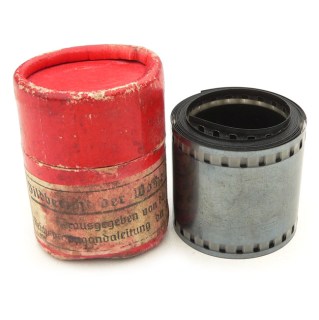 NSDAP 'Bildbericht der Woche 33/41'. This film-strip covers the week 33 of 1941. The film-strip and carton container are both in good condition. Only a few of these film-strips have survived, rare original item in good condition!
Wehrmacht wooden target board. This wooden target board is dated 1941, the deer was shot by 'Uffz. Klein'. The heavy wooden target board has a diameter of 60cms. Rare and decorative original piece!
Nice original Silvered Plate 'Luftverteidigungs-Zone West' 1938/39 with signature of 'Kitzinger'. The plate is having a diameter of approximately 29cms. Nice and unique original item!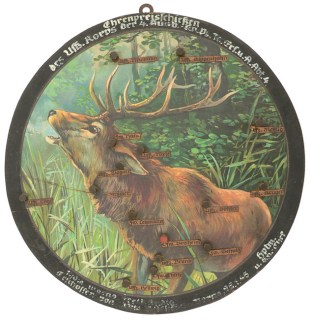 Wehrmacht 'Ehrenpreisschießen' wooden target board. This wooden target board was used by the honor price shooting of the NCO's (Uffz.Korps) of the '4.Ausb.-Kp,Pz.Jg.Ers.u.A.Abt.4'. Decorative original piece!
'Nationalsozialistischer Reichskriegerbund' (NSRKB) Flag. The flag is sized 135x122 cms. and is having some small moth damages, but in overall good used condition. Decorative original flag!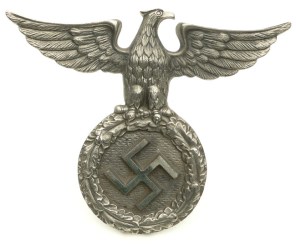 Political wall/desk eagle. The eagle is having a back stand for use as a table ornament and a wire for hanging on a wall. The eagle is 24cms wide. Nice and decorative original example in very good condition!