NSB / WA / WHN
'Nederlandsche Arbeidsdienst' (Dutch labour service) Collar Tab (Kraagspiegel), as worn by an 'Opzichter' on the dark-green style NAD tunics. Nice example in clearly used and tunic removed condition!
Cased NSB 'Oostlandkruis' or known as 'Mussert Kruis' (Mussert Cross). Complete with its original carton box & medal-bar. Nice and scarce original set in very good condition!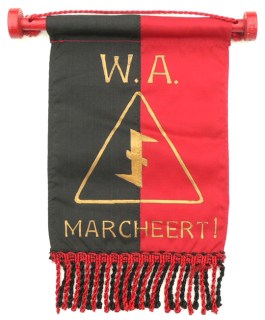 NSB - WA (Weerbaarheidsafdeling) Table Pennant 'W.A. Marcheert!'. The pennant is made of black and red, rayon with gilt script. Complete with original wooded hanging dowel, rope and bottom fringe. Example in stunning top condition. Decorative item!
NSB Money-Box (Gezinsbusje). The NSB was the Dutch National Socialist Movement. Nice original money-box in good used condition!
This is a nice and rare members pin of the Dutch 'Nationaal Front' founded by 'Arnold Meijer'. Pin in very good condition!