Vehicles (parts)
Wehrmacht Flag with grommets in the corners, used for vehicle identification from the air to avoid being bombed by other German units. The flag is sized approximately 96 x 79 cms. Rare original Swastika vehicle identification flag in used condition!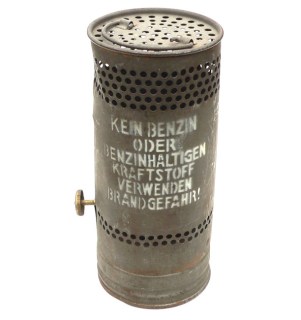 Hard to find original Wehrmacht Field Stove/Heater (Petroleumkocher). One of the standard vehicle heater models used by the German Army. The stove is dated 1943. The metal is slightly rusted but the stove is in overall very good condition. Nice original example!
Wehrmacht parts list (Ersatzteilliste D605/8) for the NSU 'Leichtes und mittlerers Kraftrad' (Light and medium motorcycle). Dated 18 March 1943. Nice and scarce original parts list in heavily used and slightly damaged condition!
Set of 1942 dated US license plates "651 EX, Ohio - 1942". Nice matching set in good used condition, decorative original period items!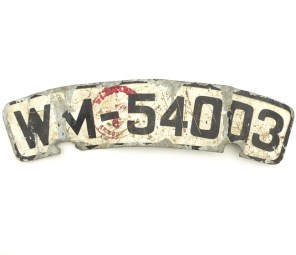 Kriegmarine Motorcycle License Plate 'WM-54003' (Kraftfahrzeugkennzeichen). Used and damaged condition, this license plate has been broken off a Kriegsmarine Motorcycle by a Dutch civilian as a souvernir. Great piece of history!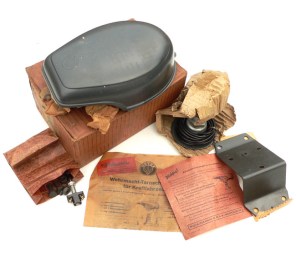 Wehrmacht fieldgrey 'Notek' Vehicle Headlight (Notek Scheinwerfer), as used on most WW2 German (armoured)vehicles and/or tanks. Complete with all mounting parts and paper descriptions, still stored in it's original carton box. Nice original set in stunning mint and unissued condition!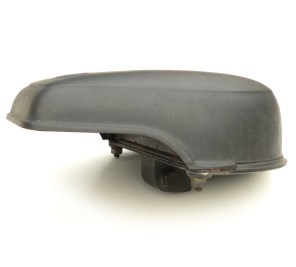 Wehrmacht 'Notek' Vehicle Headlight (Notek Scheinwerfer), as used on most WW2 German (armoured)vehicles and/or tanks.The headlight is painted in the standard fieldgrey paint. Nice original example in very good condition!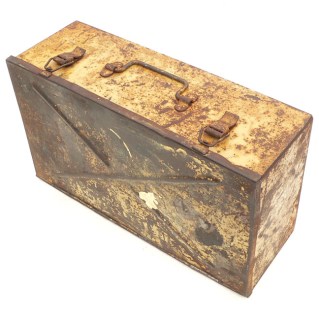 MG Ammunition Box for Half Tracks/Vehicles or Panzers (Gurttrommeln Kasten für Fahrzeuge). The box is painted in the standard late war ordnance tan paint, on top is stenciled in black 'MG-Munition'. Complete with it's original often missing inner-frame. Rare original box!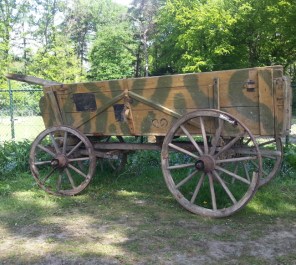 Rare original camouflaged Wehrmacht Heeresfeldwagen (Ersatzfeldwagen 43). The wooden horse-drawn carriage is complete with drawbar. It's still painted in it's original camouflage paint. Nice original untouched wagon, this is an unique opportunity for a museum to make a great display with!
Wehrmacht manual for the Russian 'Hackschlepper': Handbuch für die Hackschlepper "Universal" U-1 und U-2, Type 1. Dated February 1943. Nice and scarce original manual in good condition!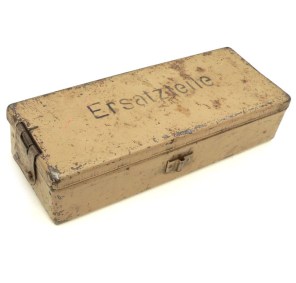 Wehrmacht 'Ersatzteile' Metal Storge Box/Toolbox. The metal box is nicely maker marked with the logo of the Auto Union company. This storage box would contain small parts/tools for use with a generator. Nice and decorative original box in good used condition!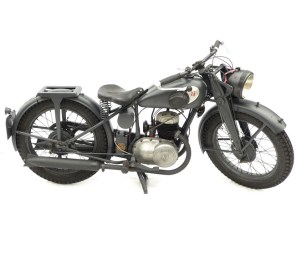 WH Zündapp DB 200 Motorcycle (Motorrad). Professionally restored motorcycle. Dated 1938, matching frame number, motor number and cilinder number. All original Ribe bolts. The motorcycle is in running condition and currently on Dutch registration. Great piece, both to drive or for in display!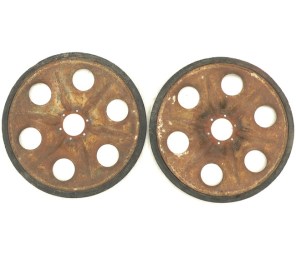 Set of 2 Wheels for the NSU HK 101 Kettenkrad - SdKfz 2 (Laufräder). Both wheels are complete with original rubber, marked with 'Fulda'. The wheels still retain a fair amount of their original paint. Overall nice original set of hard to find Kettenkrad wheels!