Books / Booklets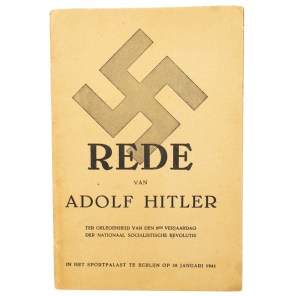 Printed in Dutch speech by Adolf Hitler, on the occasion of the 8th anniversary of the National Solcialist Revolution, this speech was held in the Sport Palace in Berlin on 30 January 1941. The booklet features 32 pages. Decorative original booklet in good condition!
Book: 'Wat is Heemkunde' (What is Local History) by 'H. Reydon', published by publisher "Uitgever Hamer" from 's Gravenhage. The book features 87 pages with many nice black&white photographs. Interesting book in good used condition!
Wehrmacht Catholic Soldier's Songbook: 'Katholisches Feldgesangbuch'. The booklet is published by 'Enßlin & Laiblin' from Reutlingen. The booklet is in good used condition, nice and decorative original example!