WW2 United States Uniforms, Equipment and Insignia
US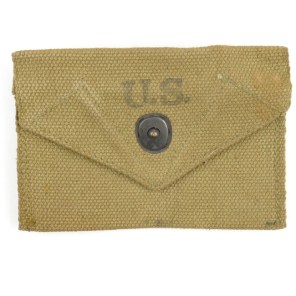 US M1942 First Aid Pouch. The pouch is nicely maker marked by the company 'Victory' and dated 1943. The pouch is complete with a functional press-stud. Nice original pouch in good used condition!
US Thompson Magazine Carrying Pouch. The khaki canvas pouch is nicely maker marked and dated 'Boyt 42' indicating production in 1942. Complete with carrying strab. Nice original pouch in very good condition!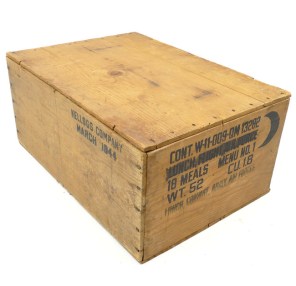 US Wooden Box for Rations, the box would contain 18 Meals, Lunch Combat, Army Air Forces. The box is maker marked by the 'Kellogg Company' and dated March 1944. The wooden box is approximately sized 54 x 38 x 25 cms. Nice and decorative original wooden box in good used condition!
US Purple Heart Medal in Box. The set is not visible maker marked or dated. The medal comes in it's original box, complete with ribbon bar and buttonhole batton. Nice original set in good used condition!
Bundle of 18 US Private First Class rank chevrons. Nice original patches in good condition!
US M1 Helmet Hawley Liner. The liner is in slightly damaged condition, there is one tear on the wearer's right side, see photos. The chinstrap is regrettably damaged. Hard to find so-called Hawley liner in used condition!
US M1 Combat Helmet with fixed bale and front seam. The liner is nicely marked with the logo of the 'Inland' company. The front of the liner has a nicely painted Lieutenant's bar. Nice original M1 helmet in good used condition!
Harley-Davidson Model WLA War Department Parts List (TM 10-1482). Published on 1 January 1943. The parts list features 82 pages and shows a lot of nice black&white photographs and illustrations. Nice original parts list in good used condition!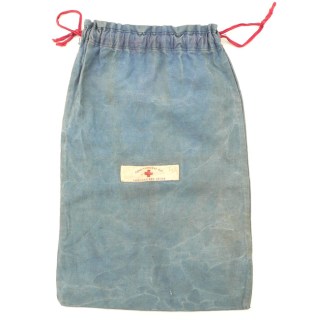 American Red Cross Convalescent Kit Bag. The approximately 40 x 26 cms sized blue coloured canvas bag is complete with American Red Cross labels. Nice original bag in good used condition!
US M1 Garand Bayonet and scabberd. The bayonet is nicely maker marked with 'AFH' and dated 1942. Nice original example in good used condition!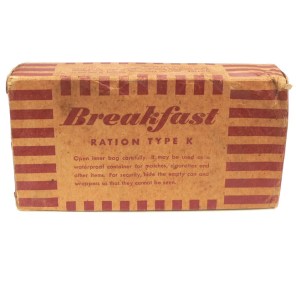 US Breakfast Ration Type K. The ration is complete with it's original contents, packed in cellophane. The ration has been packaged by the company of 'H.J. Heinz Co.' from Pittsburg, Pa. Nice and hard to find original US K-Ration in very good condition!
World War 2 US M-1943 Field Jacket. The often missing manufacturer's label is present as well and the jacket is dated 27 January 1944/45, hard to read. There are some normal traces of usage and some staining, but the jacket is in overal good used condition. Nice original US M43 field jacket!