Vehicles (parts) and Artillery related products like ammunition boxes
Vehicles / Artillery (related)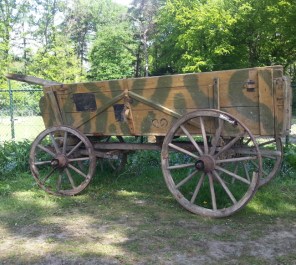 Rare original camouflaged Wehrmacht Heeresfeldwagen (Ersatzfeldwagen 43). The wooden horse-drawn carriage is complete with drawbar. It's still painted in it's original camouflage paint. Nice original untouched wagon, this is an unique opportunity for a museum to make a great display with!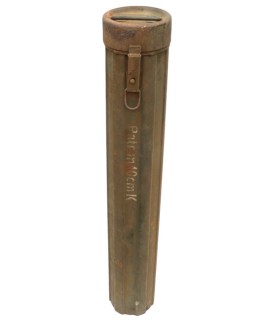 Transport container for one round "Patr.m.10cm K" for the 10 cm Cannon 14 or 18 (10cm Kanone 14/18). Container in original green paint. The container is in good used condition, with inner frame. Very rare and hard to find original container!
MG34 or MG42 vehicle mount ammo-box (Patronenkasten 36). This is a second pattern box with spring closure system. Nicely maker marked and dated 1941. Nice example in good used condition!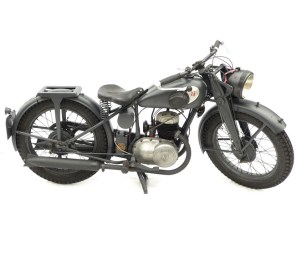 WH Zündapp DB 200 Motorcycle (Motorrad). Professionally restored motorcycle. Dated 1938, matching frame number, motor number and cilinder number. All original Ribe bolts. The motorcycle is in running condition and currently on Dutch registration. Great piece, both to drive or for in display!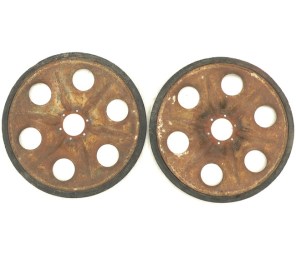 Set of 2 Wheels for the NSU HK 101 Kettenkrad - SdKfz 2 (Laufräder). Both wheels are complete with original rubber, marked with 'Fulda'. The wheels still retain a fair amount of their original paint. Overall nice original set of hard to find Kettenkrad wheels!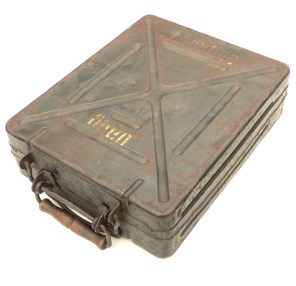 Wehrmacht 8 cm Granatwerfer (Gr.W.) 34 Morter Ammunition Box. The box is complete with it's often missing original (regrettably repainted) inner-frame. The box is nicely maker marked 'G.N.L.', WaA marked and dated 1939. Nice and scarce original box in good used condition!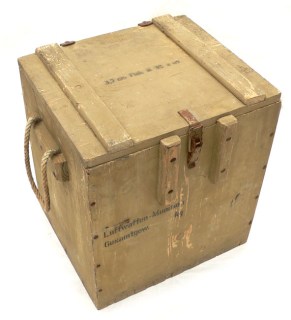 Luftwaffe '3,7cm Flak M39 a (r)' Wooden Ammunition Box (Luftwaffen-Munition). The box is nicely WaA marked, maker marked and dated 1944. Complete with inner box, it would contain rounds for the 37mm M1939 Soviet AA Gun (3.7cm Flak M39r). Rare original Ammunition box in stunning condition!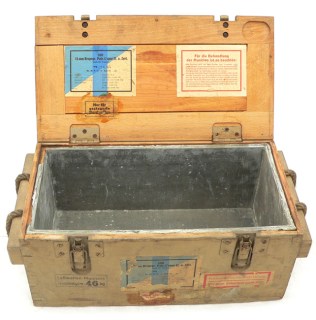 Luftwaffe Wooden Aircraft-Ammunition Box (Luftwaffen-Munition). The box is complete with all paper labels indicating that it contained '13mm Brsprgr Patr.L'spur El.o.Zerl.' (fire explosive ammunition with tracer, not self-destroying). Rare original Aircraft Ammunition box in stunning condition!