Miscellaneous items like flags, porcelain, art, daggers, swords and other unique pieces.
Miscellaneous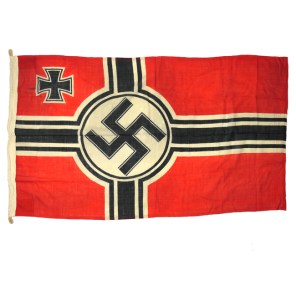 German 'Reichskriegsflagge' (National War Flag). Nice medium 100x170cms sized flag, maker marked with company logo 'WFT' and marked with 'Kriegsflg. 100x170'. Nice original flag in good used condition!
'Nürnberg, die Stadt der Reichsparteitage' Souvenir Beer Stein (Bierkrug). The 1-Liter capacity beer stein is showing the ancient city of Nuremberg as its central design. The beer stein is in good condition. Nice and decorative original souvenir item!
Rare original cast-iron wall relief picture of 'Adolf Hitler', anniversary edition for Hitler's 50st birthday. The plaque is having a diameter of 9,5cms. The relief picture of Adolf Hitler is signed by the famous artist "Arno Breker". Rare and decorative original piece!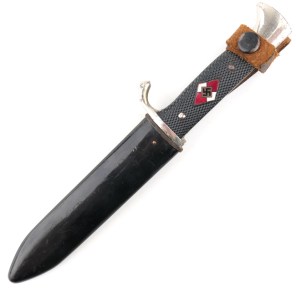 Hitler-Jugend Knife (HJ Fahrtenmesser). Late war unmarked example, complete with original scabberd. Remaining most of its original black paint. Nice original HJ knife in good used condition!
German Red Cross (DRK) Subordinate's Hewer (Hauer für Mannschaften). The dagger is in good condition, complete with its original leather frog, marked with a capital 'B'. The blade is marked 'Ges.Gesch.'. Nice original DRK hewer!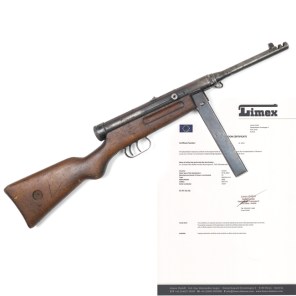 EU-Deactivated Italian Beretta Modello 38/44. The Beretta has been deactivated conform the requirements of the common minimum technical specifications set out in Annex I from the Commission Implementing Regulation (EU) 2018/337. Nice 9mm Beretta Mod.38/44 in good used condition!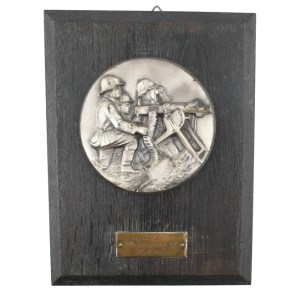 Wehrmacht souvernir wall-plaque. The 21 x 16 cms sized plaque is showing an MG 08/15 Machine gun crew. The plaque shows a small brass plate with the script '8./J.R.109 Preisschiessen 36, III Preis'. Hard to find decorative original item!
This is a nice brown enamel milk jug made from a World War 2 German Gas Mask Canister, complete with original lid and wooden carrying handle. Early post-war reissued army item turned into civilian usage. Decorative original item!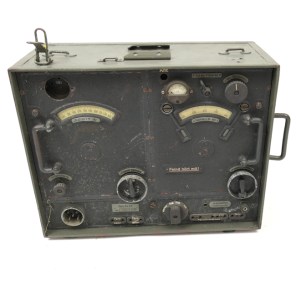 'Torn. Fu.B1' Transceiver (Tornister Funkgerät type b1). Outer box with lid has been restored, original front-plate. The radio is complete with metal type-plate, marked with Serial-Nr '27693' and dated 1940. Great item for display!