Holland (Dutch Militaria)
Rare original Dutch Shelter Half (Tentzeil). Nice grey/green coloured example with brass grommets and buttons. Nicely marked and dated with 'CM 1939' (Centraal Magazijn). Hard to find original shelter half in very good condition!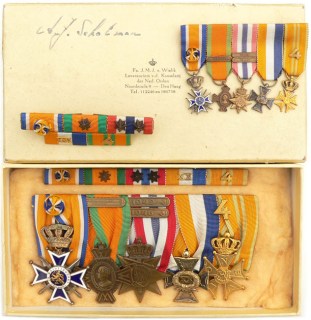 Dutch Military Medal-Bar consisting of an 'Order of Orange Nassau' with swords, 1940-1945 War Cross, Star for Order and Peace, Officers Cross and a Marching Cross. Complete with miniatures, battons and original box. The set is named. Rare original set in very good condition!
Dutch 'Lombokkruis' (Lombok Cross) 1894. Smaller 32,5mm wide version, complete with ribbon. Nice and scarce example in very good condition!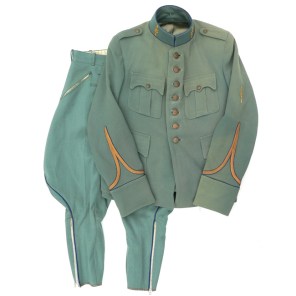 This is a nice original so-called 'Buitenmodel' tunic as intended for a 'vliegtuigmonteur' (aircraft mechanic), complete with trousers. Nice and rare tunic in good condition!