Uniforms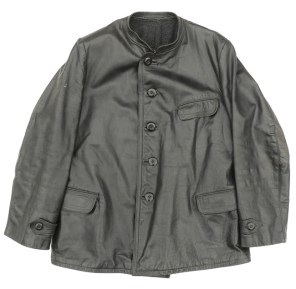 Kriegsmarine/U-boot Protective leather jacket (Lederjacke). The jacket is nicely maker marked by the company of 'Hans Trepte & Co' from Radebeul and dated 15 March 1942, the jacket is size '52' marked. Very nice original jacket in good used condition, great for a KM or U-boot display!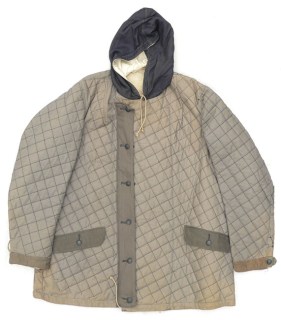 Luftwaffe Grey/White reversible Quilted Winter Parka (Wendetarnparka). The parka is made of different shades of blue/grey and white material, it is complete with all buttons of which some are marked 'LW'. Nice and scarce original late war winter parka in very good condition!
WH (Heer) M35 Dress Tunic (Wehrmacht Parade-Waffenrock) as intended for a 'Gefreiter' within the 'Nachrichten-Abteilung 15'. Nice original Waffenrock in good used condition!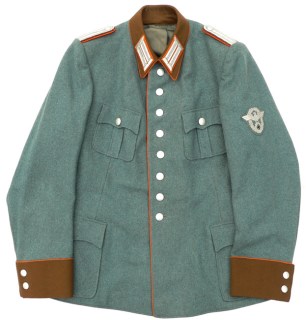 German Police Service Tunic (Dienstrock) as intended for a 'Leutnant der Gendarmerie'. The tunic is nicely maker marked by the tailor 'Döpke & Wilkens' from Bremen, the tunic is named to a lieutenant and dated 1942. Interesting original Police tunic!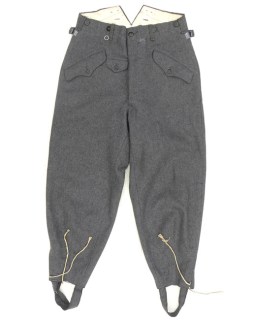 Luftwaffe M43 Combat Field Pants (Keilhose). The trousers are nicely maker marked by the company of 'K.H.Leibfried' in Stuttgart. It is a perfect size for display on a mannequin. Hard to find original pair of late war Luftwaffe trousers in good used condition!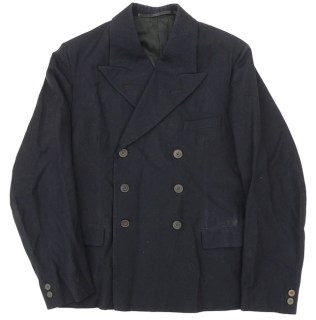 'Deutsche Arbeitsfront' Festive Tunic (Festanzug). The festive tunic was worn on special occasions/celebrations. Dark blue wool construction tunic, complete with all DAF type buttons. Nice and hard to find original DAF Tunic!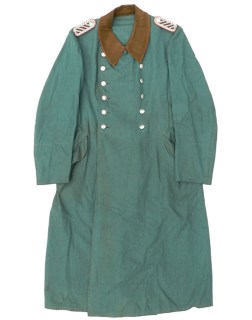 German 'Gendarmerie' (Rural Police) Meister's Greatcoat (Mantel). Nice quality, Police green, wool/rayon blend construction greatcoat, piped with the Rural Police orange branch colour. Complete with shoulder-boards. Nice original greatcoat in good used condition!
Wehrmacht (Heer) Motorcyclist's Protective Coat (Kradmantel). The Greatcoat is nicely maker marked by the 'Tannwalder Textilwerke AG', size markings are present as well.It is overall in good used condition, these specific motorcyclist's protective coats are very hard to find. Just a nice and honest ...